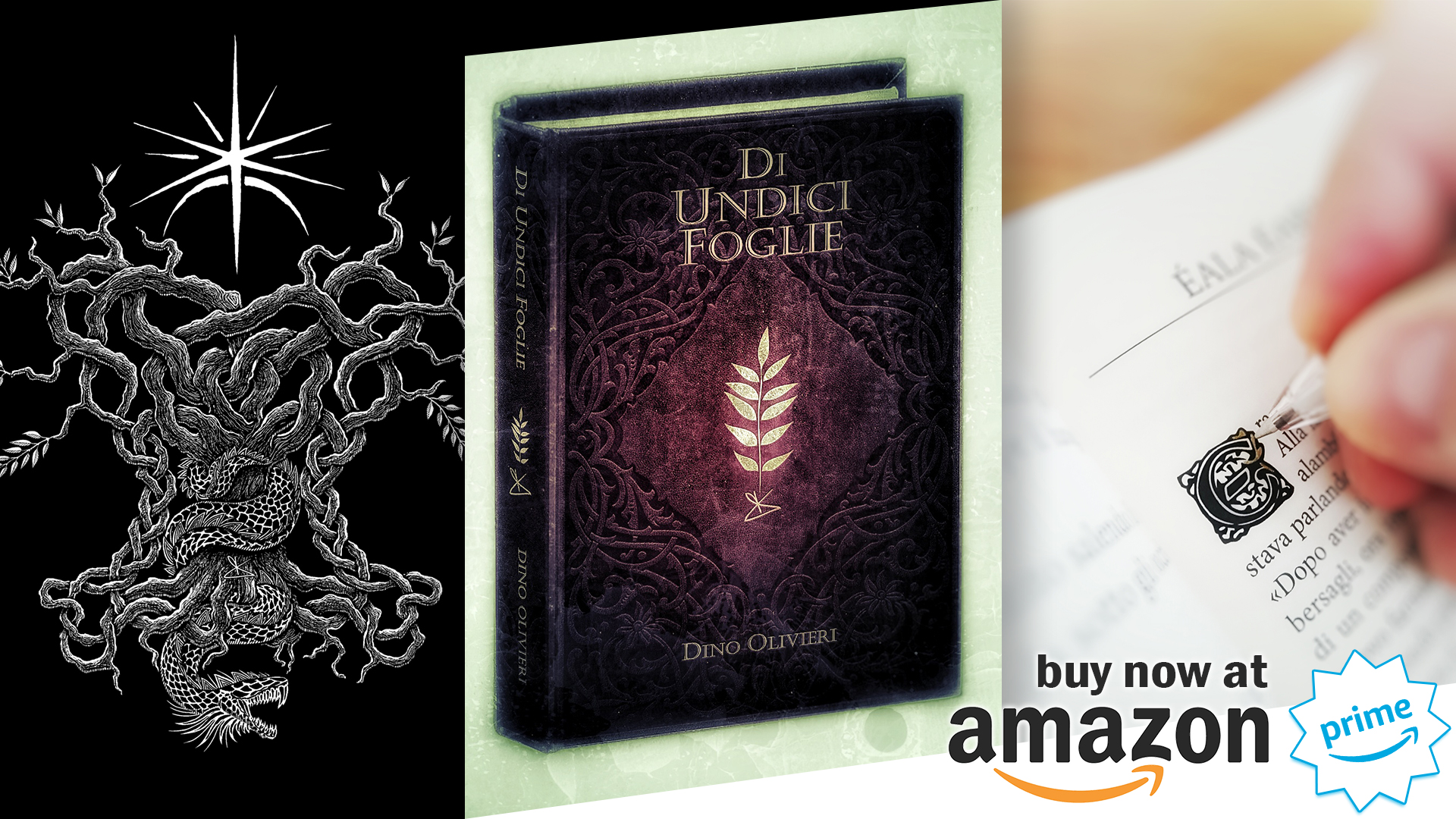 "Di Undici Foglie" è il mio primo romanzo, scritto, illustrato e impaginato da me.
Seguendo la tradizione degli scrittori, degli illustratori e dei tipografi di fine ottocento, ho raccontato tre giorni di un universo parallelo al nostro, un po' come nella tradizione di Pullman, Lovecraft, Carroll, Winne Jones, e moltissimi altri autori del fantastico.
Riguardo le illustrazioni, mi sono ispirato in parte a maestri inarrivabili come Edward Burne-Jones, William Morris, Aubrey Beardsley, Arthur Rackham, Walter Crane, e molti altri, specie appartenenti al liberty, alla fratellanza preraffaellita e ai movimenti simbolisti e neoromantici.
"Di Undici Foglie" non è un romanzo convenzionale, nè un romanzo scritto per compiacere il lettore o me stesso.
Forse vi starete chiedendo dunque cos'è?
La storia nasce da alcuni miei sogni e da alcuni eventi singolari occorsi in differenti periodi della mia vita, dei quali vi eviterò la cronaca noiosa. Ma siccome il caso non esiste, ho provato fortissimo l'impulso di scrivere e illustrare questa storia, unicamente perchè mi divertiva farlo.
Da qui si apre una storia inventata, o meglio subcreata, di vita e di morte, d'amore e d'odio, di luce e di tenebre.
Racconto di due giovani, Luce e Siri, le cui vite si scontrano e si reincontrano, dando luogo a eventi profetizzati da antiche leggende.
Racconto di un viaggio, di una fuga, di forze contrapposte a vari livelli che lottano, di sogni e realtà che si mescolano, di leggende che si avverano e di altre che si infrangono.
Di Undici Foglie – Dino Olivieri
buy now at AMAZON
Tre giorni, tre parti, trentatrè illustrazioni.
Ogni illustrazione è un imago che aggiunge informazioni e ne nasconde altre in arcani in forma di imago, rebus senza lettere.
Nel libro esistono cinque proemi, uno al libro, tre alle parti, e un epilogo. Questi proemi riportano, in chiave moderna, antichissime leggende, non solo presenti nel nostro mondo, ma anche in milioni di altri, in miliardi di universi paralleli. Leggende che parlano dell'albero sacro che regge ogni cosa, dell'eterno presente che cambia, di come nascono e muoiono gli universi, e di colei che sempre risorge.
Dietro ogni singola illustrazione c'è un altro indovinello, in forma di simboli oscuri e di codice criptico, ma che chiunque, con una attenta osservazione ed analisi, può scoprire, decifrare, leggerne il poema nascosto, e infine interpretarlo.
Ho scritto questo libro in modo molto personale, forse con uno stile anacronistico, forse stratificandolo in livelli a volte un po' criptici (adoro gli indovinelli) e forse condensando il tutto in una forma e in un oggetto (fatto di carta, spago, cartone, pelle, inchiostro e passione) non moderni. Ma se devo dirla tutta, non è che me ne importi poi molto.
Di Undici Foglie – Dino Olivieri – Estratto delle illustrazioni e praparatori
Book and Ebook Available on Amazon and Kobo. copyright by Dino Olivieri - All images can be used and shared for non commercial purposed and always citing the author Dino Olivieri.
Grazie.
Dino Olivieri
Subscribe now my YOUTUBE Channel!