The Wefts Wanderer – Song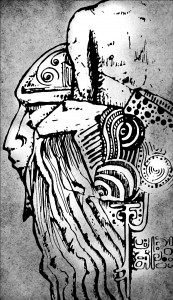 Song by Noei Vioildir
"I am lost in the electronic weave.
No time. No space.
Save me please.
I'm choking in this rabbit warren.
I'm going crazy for a Dark Pattern's riddle.
The Holy Permuter challenges me with arcane dares.
This universe is so alien.
This mission is a profound mistery for me.
No space, no time.
My name is Noei Violdir.
I am the eleventh pan-dimensional journeyer.
Take my hand.
Because i'm dying in this dangerous, cold daedalus."
(The Wefts Wanderer – Noei Vioildir )
"Perso nella trama elettronica.
Nessun tempo. Nessuno spazio.
Ti prego salvami.
Affondo in questa tana-labirinto.
Impazzisco di fronte all'indovinello dello Schema Oscuro.
Il Sacro Permutatore mi sfida con giochi arcani.
Questo universo è così alieno.
Questa missione è per me un mistero profondo.
Nessuno spazio. Nessun tempo.
Il mio nome è Noei Vioildir.
Undicesimo viandante pan-dimensionale.
Prendi la mia mano.
Perchè muoio in questo pericoloso dedalo glaciale."
(Il Vagabondo di Trame – Noei Vioildir )
You should like also..
By The Sea / Singularity / ONYRIX / Dino Olivieri
Di Undici Foglie – Romanzo – Dino Olivieri
Feel Love – Onyrix / Dino Olivieri – Youtube Music Video
"So Impossible, I'm Falling in Love" – Onyrix / Dino Olivieri / 2014
Dino Olivieri's Music
Dino Olivieri on Soundcloud
Dino Olivieri on Bandcamp
Dino Olivieri on Spotify
Dino Olivieri on Apple Music
Dino Olivieri on Amazon Music
Dino Olivieri on Napster
Dino Olivieri on Deezer
Dino Olivieri on Tidal
Dino Olivieri on Youtube Music
Dino Olivieri on AWA Music
Dino Olivieri on KKBOX
Dino Olivieri on Yandex