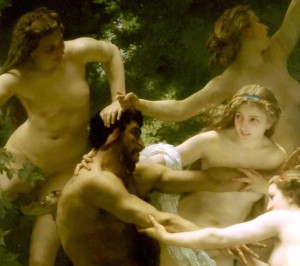 The Sensual Fairy and the Dark Faun
Noei Vioildir
A long time ago,
in a forest far, far away,
there was a sensual dawn's fairy.
She sang burning promises of love,
and a dark faun heard her voice,
getting eager as never before.

The faun said to the fairy:
– Come into my embrace,
my loving twig of joy. –
The fairy drew back,
and scared she said:
– I'll come if you don't fall in love with me –

The faun promised on his honor,
showing her his harder virtue.
So she smiled, greedy of sex,
giving him her fairy ass.
La Fée Sensuelle et Le Faune Sombre
Noei Vioildir / traduit par Mlle Polina Marazyuk
Il y a fort longtemps,
Dans une forêt fort lointaine
Vivait une fée sensuelle de l'aurore.
Elle chantait des promesses d'amour brûlantes
et un jour, un faune obscur et sombre a entendu sa voix,
devenant désireux du corps plus que jamais.

Le faune a dit à la fée
– Viens dans mes bras
Ma petite brindille de joie ! –
La fée s'est reculée
Et effrayée, a dit
– Je viendrai si tu ne tombes pas amoureux de moi –

Le faune l'a promis en son honneur
Lui montrant sa vertu la plus dure
Alors elle sourit, avide de sexe,
Lui donnant son cul féérique
La Fata Sensuale e il Fauno Oscuro
Noei Vioildir
C'era un volta,
in una foresta lontana lontana,
una fata sensuale dell'alba stellata.
Cantava languida promesse d'amore,
quando un bel giorno, la udì un fauno-atro,
che la desiderò, come mai aveva desiderato.

Il fauno disse alla fata
– Vieni tra le mie braccia,
mio piccolo virgulto di gioia! –
Ma la fata arretrò,
e spaventata rispose
– Verrò sì, se giurerai che di me giammai ti innamorerai –

Il fauno sul suo onor promise,
mostrandogli la sua virtù più bella e dura.
E rischiarata la fata sorrise,
che avida d'amplesso,
diede lui il fatato culo e sesso.